How To Workout Based On Body Type
Almost anyone who was been training in the gym for a considerable amount of time can tell you a story about when they first started training and all the mistakes they were making in their workout routine.
For one, I have been training in a gym for 17 years and I'm now a qualified Personal Trainer.
However, I spent my first 6 years in the gym, before qualifying as a PT, training incorrectly due to not knowing my body type!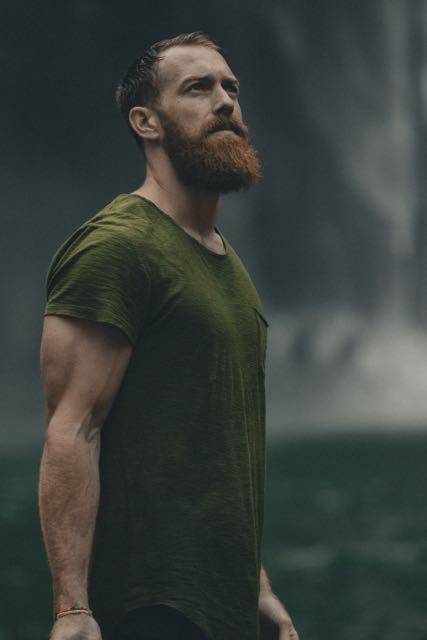 Now when I say incorrectly, I'm referring to not training the muscles as effectively and as efficiently as possible, not thinking about potential injuries one can sustain while training, and not taking into consideration my body type. So before you start your gym workout programme it's always important to know what your body type is.
There are three different body types, and they dictate how well you respond to different forms of workouts. This is one of the reasons why I always recommend that people hire a Personal Trainer who can customize workout programmes to suit their clients' particular body type and training goals.
The three different body types: ectomorph, endomorph, and mesomorph.

Each of them have their own basic characteristics which can help you to determine what your body type is. Then once you know your body type you will be able to adjust your training or workout programme accordingly in order to help you to reach your goals quicker.
Note, you can be a combination of two body types, sharing some of their respective characteristics.
Basic Characteristics:
- Skinny build
- Delicate frame
- Finds it difficult to build muscle
- Fast metabolism
People with an ectomorph body type will find it challenging to gain muscle as well as put on fat.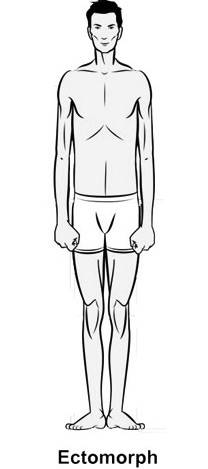 Therefore, if you have an ectomorph body type, then try to focus more on compound movements when training, like bench press, squats and deadlifts, as opposed to isolated movements like bicep curls, leg extensions and tricep pushdowns .
The reason for this is that you use more muscle groups during compound movement exercises. For example, the deadlift is a compound movement exercise that works out muscles in your legs, back, core, shoulders and chest.
Whereas bicep curls is an isolated movement that only works out the biceps. Isolation movements are important, and shouldn't be completely absent from your training routine, however your main focus should be on the big compound movement exercises.
Rather use isolation movements as accessory exercises or as a finisher to a particular workout.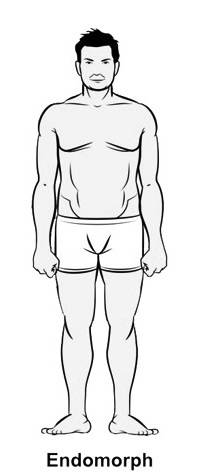 Basic Characteristics:
- Stocky build
- Wider frame
- Muscle and fat is stored in the lower half of their bodies
- Can find it challenging to stay lean
- Slow metabolism
Therefore, if you have an endomorph body type, then you should try to shock your body into burning fat while training, by increasing intense aerobic exercises, and by focusing on interval training such as HIIT (high-intensity interval training), as opposed to LISS (low-intensity steady state cardio).
In order to see better and faster results, you should focus on full body workouts when training as opposed to just focussing on one muscle group at a time. In order to increase metabolism, you should include both hypertrophy training (muscle building – heavy weight, training to failure) with conditioning exercises (battle ropes, sprints, heavy boxing bag work etc.).
Training like this, your metabolism will be fired up, even hours after you've finished your training. Endomorphs also tend to keep fat around their midsection due to high stress levels. To maintain normal stress levels, you should allow your body to recover properly by avoiding what we call "overtraining", and by ensuring that you get enough sleep.
Basic Characteristics:
- In between both endomorph and ectomorph body types
- Can be lean and muscular at the same time
- Naturally athletic build with well defined muscles
People with a mesomorph body type will find it easier to build muscle than the ectomorphs, and easier to lose fat than the endomorphs.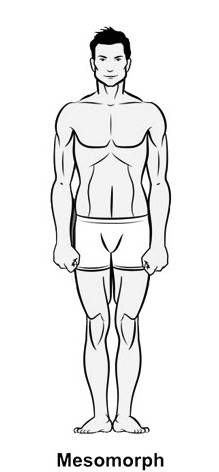 Mesomorphs don't have to lift considerably heavy weights in order to see results. If you have a mesomorph body type, you can continue to progress in the gym even by lifting moderate weights.
However, while you can lose fat easier than endomorphs, it doesn't mean that you are totally exempt from having body fat. It is also recommended to include aerobic exercise in your training which will help to get your heart rate up and to help you to burn fat.
---
We hope this article has helped you to identify your own body type, and has given you some insight into the relevant training techniques required to get better results in the gym.